Meet the


Lee Family

Holland, Manitoba
For 3rd generation farmer Rick Lee, agriculture was always part of the family legacy. The family has farmed in Holland (Manitoba), a rural town with a population just under 500, since Rick's grandfather Edward, returned from World War II.
When Edward and his wife Valma started farming, they had a grain farm with a small flock of laying hens overlooking the Assiniboine river valley. Eventually Rick's parents, Don and Arlene took over and managed a 500 laying hen operation until the late 90's. Over the years, the Lee family has raised Hogs, broiler (meat) hens and even a few ducks. In 2016, Rick built a new enriched barn for 10,000 laying hens and Lee's Valley View Farm Ltd. saw the light of day.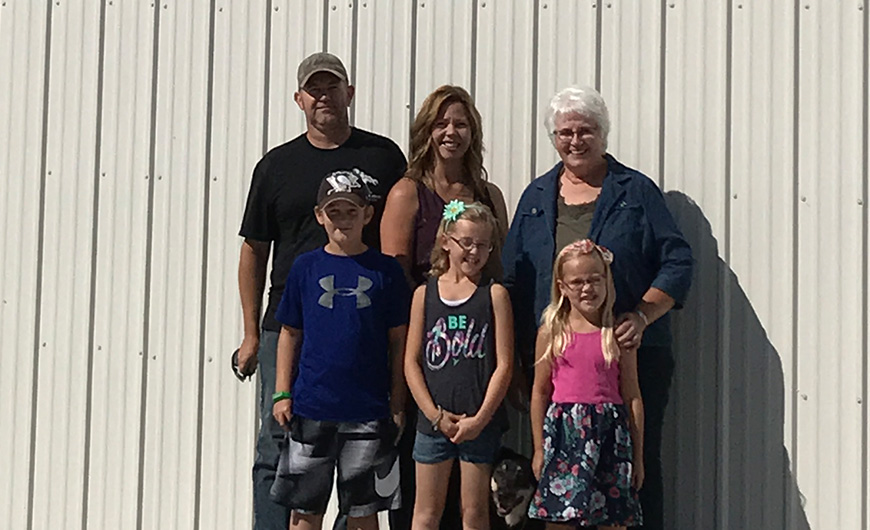 Rick is also in the construction business and works as a general contractor as an Owner/Operator of Tiger Homes, which mostly focuses on residential construction, concrete work and small commercial projects, they have built over 200 houses to date in the Southern Manitoba area. The company has also undertaken building a new church in the town, a project Rick is proud to be a part of. The family is also very active in their community and spends time volunteering.
Rick's wife Lisa works at the local high school, and the couple's children Charlie (11) Emily (9) and Natalie (7) are eager helpers on the farm on weekends and in the summertime. Rick's mother Arlene is still active in the farm operations and helps out with daily chores in the morning. The family also has two beloved pets; a dog named Peanut, and a cat named Lucy.
The family is big on camping; taking full advantage of the short Manitoba summers. They also have their own Saskatoon trees, and large gardens. The Lee's are also a "hockey family" and when they aren't picking eggs, they're at the hockey rink cheering on their children's hockey teams.

What does egg faming mean to the family? "We take great pride in our barn; being able to take care of our birds and provide consumers with a quality food product is a very satisfying part of our life. I am proud to be a third generation egg farmer on the same family farm and involving the whole family in our experience. One day, we hope to become a fourth generation egg farming family!"