Meet the


Van Deynze-Fleming Family

Holland, Manitoba
When it comes to the Van Deynze-Fleming family, farming is more than just a job—it's a way of life, one that shapes their entire identity. When Daniel Van Deynze purchased a farm in Holland, Manitoba that would one day become D&J Van Deynze Inc., he was only 19. He started out with 120 pigs, 100 beef cattle and 100 dairy cattle, and soon expanded into seed. Daniel and his wife Joann eventually decided to focus on expanding their dairy herd. They have four daughters (Kate, Stephanie, Jaclyn and Angela), all of whom were raised on the farm. The girls grew up helping with the cattle, making hay and helping out with chores.
In 2008, Kate Van Deynze-Fleming and her husband joined the family business. A teacher by trade, Kate always loved farming and wanted to get back into it. She and her husband wanted to raise their children on the farm, and instill in them the same values that Daniel and Joann had instilled in Kate and her sisters. Now, the farm is completely family-run, with everyone pitching in.
Daniel oversees the entire operation and is in charge of grain production. Joann is the "glue" that holds the farm together—she does all of the bookwork, and cares for the grandchildren. Kate is in charge of the day-to-day running of the layer operation, including gathering the eggs and caring for the hens. She also helps out with the field work. Her husband Tyler works off the farm and her children (Billy, 9, Anna, 8, and Luke, 6) help out however they can.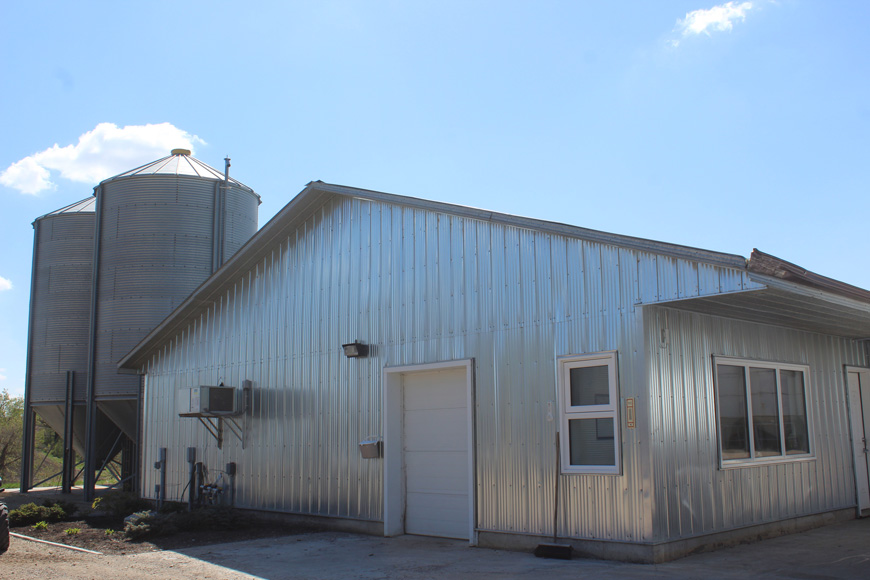 In 2012, the decision was made to switch from dairy cattle to laying hens. Since then, the flock has grown to 12,600. The hens are housed in enriched cages, and Kate and her family pride themselves on staying up-to-date on everything going on in the industry and making sure their farm meets (and exceeds!) all industry standards. Kate represents Manitoba for the Young Canadian Egg Farmers 2018, and also attends egg board meetings.
When they're not working on the farm, the Van Deynze-Fleming family keeps themselves busy. Kate and her husband both coach sports in the neighborhood, and when they're not doing that, they enjoy spending time together as a family.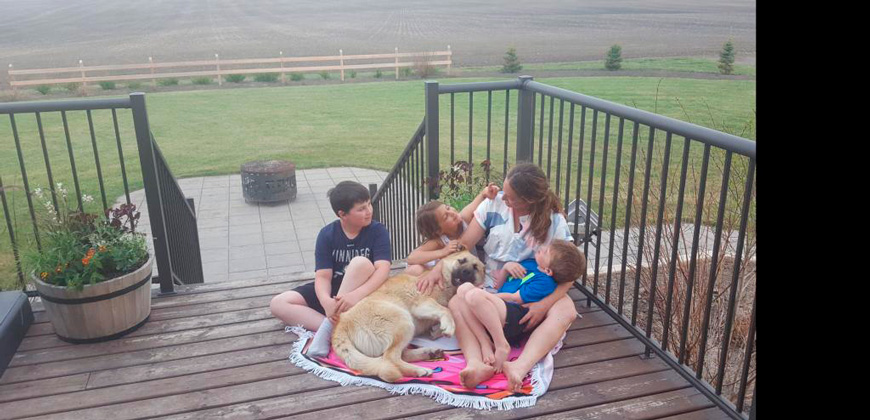 "Being raised on a farm is the reason I am the person I am," says Kate. "Growing up, my sisters were my best friends. We weren't just siblings, we worked together. We did everything together. It's really important to me that my children are raised the same way. I see it already in the way they interact with one another. Farming teaches you responsibility, not just for the animals but for the community you're part of, the community you're providing food to."

When it comes to the eggs they produce, Kate says there's no better source of protein. "When people ask me why I farm, I tell them this: I love my kids, I would do anything for them! I feed my kids eggs because I want them to be healthy and I know what I'm providing is the best for them. And eggs don't discriminate. You don't have to be rich to afford them, you can put them in anything, and they provide that extra boost you need."